Quarterbacks Mark Sanchez and Matt Stafford…and a $250 million dollar club?
A once in a lifetime photo of six young men you'll soon see on Sundays.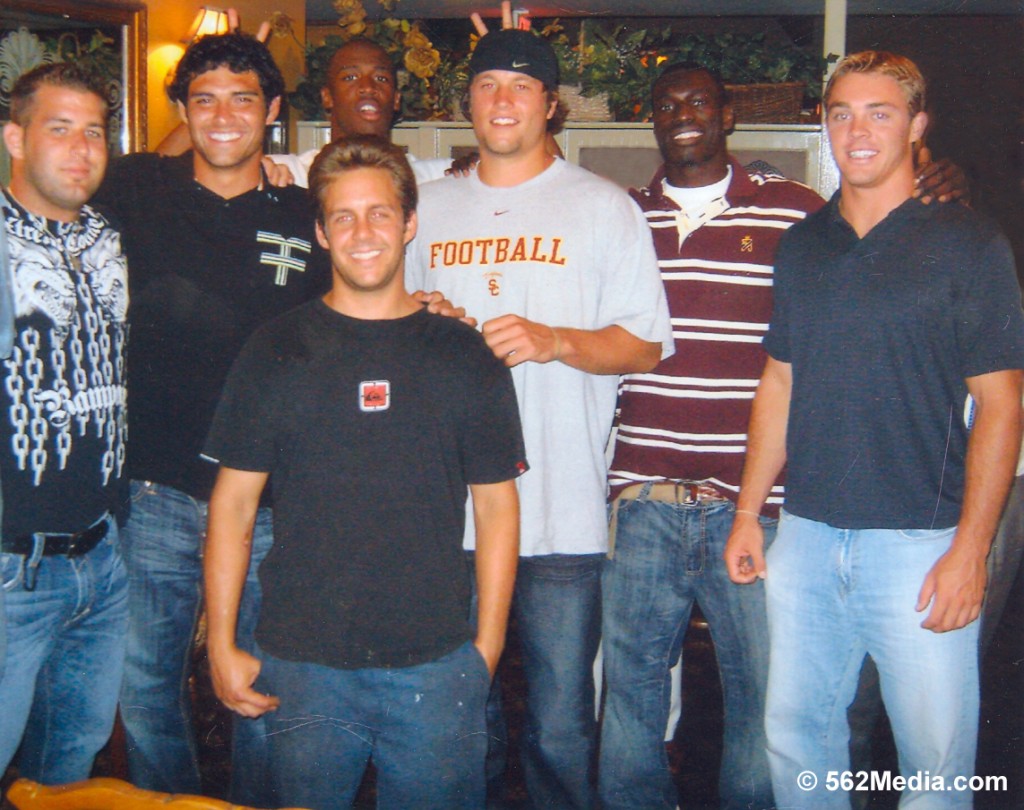 Five of  2008's  best college quarterbacks and one outstanding wide receiver, (Damian Williams, USC) met for a Nike sponsored dinner at Phil Trani's Restaurant  in Long Beach, CA. It's been estimated that this group could ultimately have contracts that will top $250 million, admittedly a lofty figure but by what year, 2010 or 2014?
Mark Sanchez set the dinner up and even had Stafford wearing a USC T shirt.  That's the typical "salesmanship" this kid is capable of.  In the meetings we've had with Mark he's always been a down to earth young man who is all about football so it came as no surprise to see how well he and Stafford hit it off during the meal.
This may be the first time that five of the country's top quarterbacks appeared together in a photograph and it is highly unlikely these five will ever be seen together again. Nevertheless, this shows young collegians at their very best…giving of their time to help high school athletes at a Nike quarterback clinic in Orange County.
With so many NFL teams desperate for help at the Quarterback position we know that at least Sanchez and Stafford will play in the NFL in 2009. McCoy, Daniel and Reid will be in next year's draft along with Williams who will be one of the top receivers in 2010.  A prediction that their salaries and signing bonuses will ultimately top $250 million seems easily possible and that's an amount higher than the salaries of a recent photo of group of Wall Street bankers. As much as we believe sports salaries are getting too high there is no doubt these young men will be held to a higher standard to prove their worth than those bankers were.  That's OK ….they'll be up to it.
Left to right in the photo are Chase Daniel, Missouri, Mark Sanchez , USC, Bobby Reid, Texas Southern, Matt Stafford, Georgia, Damian Williams, (wide receiver) USC,  and Colt McCoy, Texas.  Chef Phil Trani Jr. – former center for Mary Star of the Sea High School – appears front center.
Unfortunately Sam Bradford (Oklahoma) and Tim Tebow (Florida) were not there for dinner or the estimated number might have topped $350 million.