Be A Seal Beach Santa..Save a Life!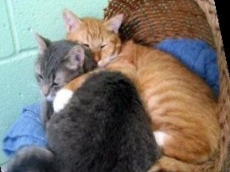 The Seal Beach Animal Care Center Presents a Christmas present that will be a "forever" present.
We want to find "forever" homes for 77 wonderful cats and kittens.
We are going to place 77 cats in 77 days!
We have streamlined our adoption process, with same day approvals available most days. We are offering rebates of adoption fees, and discounts for multiple adoptions and adoptions of senior and special needs cats, through December 31, 2009!
Come and meet Ducky, Frisky, Jitterbug, Brando & Emmie and other wonderful cats and kittens, and probably one will be your new best friend!
Make a difference in the life of a homeless cat or kitten and in your own heart as well as the new owner!
Trust me, these little guys know when you adopt them and their love is almost immediate.
Contact the Seal Beach Animal Care Center
1700 Adolfo Lopez Drive
Seal Beach, CA 90740
(562) 430-4993