The passing of a legend
Last week there was a celebration of life for a Wilson High School Teacher, a friend to many of us, Bob Gruneisen.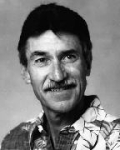 Bob passed from this life in a manner that many of us might envy.
He had a small cut on his leg that wasn't healing and Frank Addleman encouraged him to go see a doctor.  He did and the doctor said it was quite serious and asked him to go to a hospital for a more in depth review.  The hospital told Bob that yes the leg was serious, however, something even more serious was found. He had a very aggressive form of leukemia and while he could take some very strong chemo treatments…they did not have a good record against the type of leukemia he had and there was much sickness along with the treatments….but if he didn't take them death was imminent.  Perhaps 7 days.
Bob opted for the 7 days.  During that short time he wrote his own epitath and made arrangements for his family and those few friends that he expected to come to his memorial at the Long Beach Yacht Club.  After all, he was 78 and your circle of pals diminishes with age. At least, so he thought.  Humble to the last.
I hope he was able to look down and see the approximate 500  people who showed up at the Long Beach Yacht Club.
Over 75 people wrote their thoughts in the "Legacy" section of the Press Telegram. http://www.legacy.com/obituaries/lbpresstelegram/obituary.aspx?n=joseph-robert-gruneisen-bob&pid=155873115
At one point during the remarks, one of the speakers sked if everyone in the audience who'd had Bob as a teacher or had competed in swimming events against him or his team would raise their hand.  Over 90% of the hands went up.
The Long Beach Lifeguards had two rescue boats outside ….Bob's nephew is a guard….and they shot giant plumes of water up in the air for 5 minutes.  It was a striking display.
By and large the majority of those in attendance were men and women who had Bob as a teacher and much younger than his older gang from Belmont Shore days.  And such a turnout tells us the importance of a good teacher to our children and grandchildren…if we didn't already know.
Just a few of the comments from the many in the Legacy section:
Neil Conkings said "Mr. Gruneisen was my favorite teacher at Wilson. (class of '69) My friends were on the swim and water Polo teams, so myself and my girlfriends were around him a lot. He even talked me into handing out trophies at one of the swim events. Several years back I saw him again at the Wilson Alumni golf tournament at rec park and was so happy to have some time to chat with him. He was a great man and will be sorely missed.
Theresa Bixby said, "I met Bob when I was training with the US Women's Waterpolo team. He let me train with the Wilson boy's swim team to keep in shape. He always had such a great smile and a natural joy for life. It was contagious. He had that twinkle in his eye… I never knew exactly what 'twinkel in the eye' meant until I met Bob."
Steve Nott said " I attended Bob's celebration of life with more that 400 others @ LB Yacht Club. I will always carry with me that when the question was asked: "Who here was coached by Bob or coached with or against him?" and it seemed like almost every hand went up!  Also, his nephew summed up Bob's finest qualities: a great listener; very caring; extremely kind. He will be missed, and he most definitely had a wonderful life.
Phil Poland said "I met Bob a few years ago when we were sometimes in the same foursome playing golf at Rec Park. I found him to be a really great guy and very friendly. I learned that he had been a teacher at Wilson High School and had taught History to one of my younger friends. We never got around to discussing our common interests such as being Porsche owners or times spent in Hawaii. I envied his handsome looks, slim build and eternal tan. A real gentleman that I regret not having the opportunity to know better."
Barry Wood said "Bob was a gentleman. He coached me for 3 years in water polo with Pete Archer. What a great team-those two were. And I could call him a friend after polo. I would sit with him at Wilson-Newport games and he would come to our reunions. What a great guy. He will be missed…..
Jodi Pelegrino-Sewell, the daughter of his close friend Ed Sewell said ,"You were a great influence in my life, Mr. G. When I was in high school and at my lowest, you raised my head up with your direct honesty and your gracious generosity. When I felt like less than nothing, you treated me to a full day at a Long Beach day spa. I've never forgotten that. Thank you, God, for Mr. Gruniesen. I loved him."
And lastly, Lew Gordon summed it  up.  He said, " I don't remember any of my teachers other than Mr. Gruneisen. He was a wonderful teacher and a very nice man.
Grundoon….we'll never forget you.