Comments Off on Should additional weekly rentals be allowed in Old Town?
Please come to the City Council meeting this Monday, 7pm and help us stop MORE ….vacation rental approvals here in Old Town.
I have lived next to a party house for the past 4 years and I don't wish that nightmare on anyone.  It's not allowed in any other part of our city, so why just in Old Town?
Please come and speak. We need to get 4 votes of the council to approve and 'emergence' ordinance to stop the approvals except for those that have already approved.
The City has received approval requests for TWENTY (20+)  licenses so far even thouogh there are actually FORTY (40+) vacation rentals advertising in Old Town right now!
Please ask your neighbors to show up on Monday also.
How much is enough?
Thank you,
Marc Loopesko
Comments Off on Endeavor's Last Flight …the last moments over Seal Beach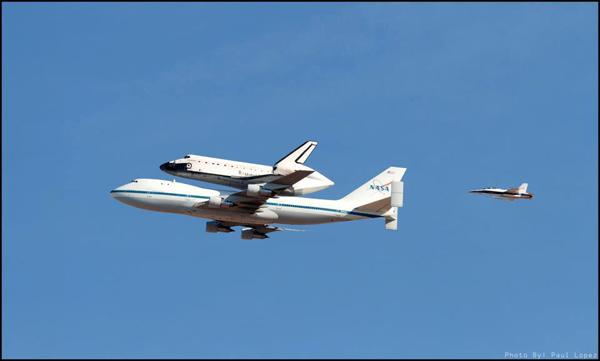 Nothing much can be added after looking at the photo above.
It's somewhat like adding a peroration to an epitath at a funeral. After its over….you sort of stand there stunned and wonder if there will ever be anything like that in your lifetime again?
Let's hope!
Comments Off on 97th Seal Beach Founders Day Honors Naval Weapons Station
97th Seal Beach Founders Day Honors Naval Weapons Station
       Special to What's Up by Libby Applegate
2012's Founder's Day theme is "Hometown Heroes."  They would like all the input and photos they can get from local residents regarding  women and men who currently serve or have been stationed at the base in the past. It has been a part of our city since 1944 and its detachments provide shore-based infrastructure support to the Navy's ordnance mission and other activities.
Initial construction costs were approximately $30 million, including over $4 million to buy out property from numerous local landowners who were living in an area of Seal Beach called Anaheim Landing. This area had a bowling alley, grocery store and according to locals was the best place to swim while going in and out with the tide in the 1920's and '30's.
It is also home to several historical sites.  From 1963 through 1974, North American Aviation (now Boeing ) used the base property to build the second stage for the powerful Saturn V rocket, which propelled man to the moon during the Apollo program.  These huge vehicles were built in special multi-story structures, which are today used by base personnel for a variety of purposes.
A contingent of enlisted sailors as well as Commander Paul Werring, USN and his wife, Linda, from the Weapons Station will be attending the 97th Seal Beach Founders Day Celebration in honor of the personnel and military here in Seal Beach. That will  be held on our world famous pier on Sunday, October 7, from 12:30 to 2:30 p.m.

 Commander Paul G. Werring is the ?Executive Officer ?for the base. CDR Werring enlisted in the Navy in July 1982 and graduated from Recruit Training Command at Great Lakes, IL in February 1983. Among many more deployments, too numerous to mention, in June 1995 CDR Werring reported to the Tactical Support Center in Roosevelt Roads, Puerto Rico where he was a Watch Officer supporting P-3 squadrons deployed to the Caribbean. He also made several trips to Panama supporting P-3s forward deployed to that country.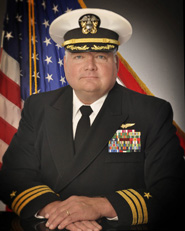 CDR Werring then reported to the Defense Prisoner of War/Missing Personnel Office in Washington, DC in June 2004. During this tour he was selected as the Military Officer of the Year in 2006. In July 2007 CDR Werring reported to Naval Station Chinhae, Korea where he served as Executive Officer. CDR Werring's most recent tour was with the Joint Warfare Analysis Center where he served from October 2008 until October 2011. During this tour CDR Werring deployed to Afghanistan in support of US forces.
Entertainment will include music provided by Hank Barto Quartet from Leisure World; Oak Middle School Choir; Los Al High School Jazz Band (Ed note…"They are GREAT!) and the Los Alamitos High School Marching Band
 The 97th Seal Beach Founders Day Celebration is proud to honor all of the men and women who have been our good neighbors for so many years.
Please visit our Seal Beach Founders Day blog for updates and history of the Naval Weapons Station Seal Beach at sbfoundersday.wordpress.com.
Don't Forget  – Seal Beach Pier -Sunday, October 7, 2012 at 12:30
Email your memories and photos to:  sbfoundersday.wordpress.com
Comments Off on Walk For "The Clean Beach" Sept 15!
Join us at the last celebration of summer cleanup on Saturday September 15th –
It's going to be an awesome day.  We're going to be part of over 70,000 volunteers cleaning the whole coast of California! And we have our 3rd Annual "Walk For The Beach"LOCATION: 15 1st Street, Seal Beach – anytime from 9 a.m. to Noon!
Register for the walk here:
OR
Print And Mail Registration Walk For The Beach
OR
Register for the cleanup here:
Walk includes a "Keep It Clean" T-shirt with $25 entry fee. (Register by September 5th to receive T-shirt day of walk – otherwise it can be picked at another cleanup or mailed)Thanks again for your contribution to keeping our beaches beautiful ~Steve & Kim Masoner, Founders
www.saveourbeach.org
Comments Off on Seal Beach's Red Baron & son off to Oshkosh
Jerry and Tyler Rootlieb left Seal Beach on July 9th for Oshkosh, Wisconsin.  Why, you may ask?  Who would want to fly to Wisconsin when its in the 100's with a dew point to match? Well I think they thought it would cool off between then and now…but they really had no choice.  It was preordained.
Well, each year up to 10,000 visiting aircraft – of all shapes, sizes and varieties – make Oshkosh the busiest airport in the world!(for a couple of weeks.)
There are many, many direct flights to Oshkosh, Wisconsin…..AS LONG AS YOU ARE FLYING YOUR OWN AIRPLANE!
This father and son team are flying in the plane that Jerry bought (started buying?) when he was 15 years old. It was his Father's plane before he got it and his sons will inherit when he gives it up…probably in 20 or 30 years!.
Its a 1938 Piper Cub. I've flown with my pal up and down the coast….and out over the ocean whale watching…and it is a unique experience.  Lower altitudes, slower going and just kind of restful.  I remember noting to Jerry that the trucks on PCH were going faster than we were and he said that was because we had a head wind of 15 mph!  He pointed out that without that head wind the Cub could go as fast as 65 mph!  (I was too polite to express my skepticism.) 
When you fly cross country in an airplane this small your flight plan is a little different than Jet Blue's.  Usually you want to stop every few hours for bodily as well as airplane needs.  Sometimes at road side gas stations.  To that end this California Piper followed roadways that I remember as a kid coming across country…including Route 66…which is harder to find today than it was 50 years ago…but not for experienced pilots like Tyler and Jerry.  They left on July 9th and today they have been in the small town of Hartford, Wisconsin for two days of R&R.
Tomorrow, July 22,  they will be part of a flight of 200 piper cubs from all over the U.S. that will fly into  Oshkosh in a Yellow Rainbow (Yellow was the manufacturer's color on all Piper Cubs) that will likely take several hours to land at Oshkosh.  I'm sure it is the trip of a lifetime for the Rootlieb's to make and one that will be told throughout the family for years to come.
I followed their flight from California to Wisconsin and here is their stops:  (not including unplanned day-time stops)
Overnight at:
Bermuda Dunes
Phoenix
Tucson
Deming
El Paso
Carlsbad Caverns
Lubbock
Oklahoma City
Wichita (tonight)
Kansas City, Mo
Iowa City
Hartford WI ( for two days)
……….and then the mass Cub fly-in to Oshkosh, Sunday morning.
Here are some of the planes that will make appearances at Oshkosh this year:
B-29 Superfortress FIFI   (July 26-27), DC-3 Flabob Express  (July 23-29),,ORBIS DC-10 "Flying Eye Hospital" (July 23-29), Junkers JU 52 (July 23-29),,F-16 (July 23-29),KC-135 (July 24-29), T-2C Buckeye (July 25-28), Southwest B-737 (July 28) JetBlue A-320 (July 25), E-2C Hawkeye (July 26-29), F-4D Phantom (July 23-26) MiG (July 25-26),P-51 Tuskegee Airmen  (July 23-29), T-38 Beale (July 26-29), T-6 Texan II (July 26-29), C-17 (July 24-25), C-5 (July 27-29), B-17 Yankee Lady (July 26-29), F-4 (July 25-26), Piaggio Avanti (July 23-24), FedEx (July 26), RV Aircraft Display (July 23), T-45C (July 26-29), Blue Angel #1 F/A-18 (July 24) F/A-18 F Super Hornet (July 27-29).
Take a short flight in a Cub right now!  http://www.youtube.com/watch?v=18130bpbiM8
Comments Off on The "Grey Ghost" visits Seal Beach…and leaves at least one….Smitten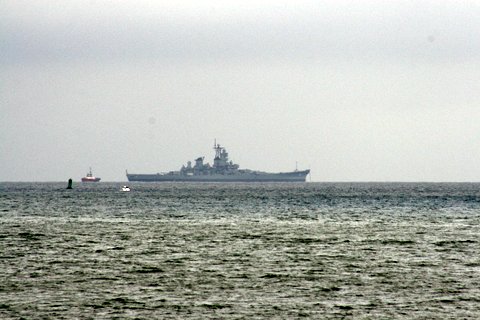 Last week I took an early evening walk on the pier. I saw what looked to be a warship that…at first glance…seemed a little larger than usual for the Seal Beach Naval Weapons Station. It was pretty far out; maybe three or four miles.
Then I looked again and recognized that silhouette. OMG…that's the Iowa. That's the "Grey Ghost" (aka "The Big Stick." ) and there it is in front of Seal Beach.

She was the silent leader of what has long been called "the Ghost Fleet" of Suison Bay. Once there were hundreds and hundreds of ships in mothballs waiting to be scrapped in Suison. Now that once giant silent fleet has been reduced to less than 100 ships. But one member of that club was the last dreadnought in the world still waiting for a home. And then it was decided. The USS Iowa would go to San Pedro and become the last battleship to float under the Golden Gate bridge.
The last in the world!
That silhouette gave this writer chills. A battleship at anchor off the Seal Beach Pier. Was this 1943 all over again? Every enemy sailor of World War II knew that silhouette. It would have been a prize for any German or Japanese submarine. A U-boat commander's dream come true to put a torpedo into that hull.
It was not to happen. Of the four Iowa class battleships built between 1938 and 1943 none were sunk.
Even though the U.S. population was predominantly of an isolationist bent at the time and did not want to go to war with Germany; nevertheless FDR got the 1938 Congress to authorize a group of 6 "fast attack" battleships to be built to upgrade our antiquated fleet. (No battleships had been built in 17 years!) These fast attack ships were to protect our future carrier task forces. Ironically early battles in WW II taught the combatants on both sides that air power was needed to protect the battleships…not vice-versa. (On Dec 10, 1941 Japanese bombers and torpedo planes caught 2 british battle ships, HMS Prince of Wales and HMS Repulse in open waters trying to come to the defense of Singapore. Both were caught in the open by Japanese bombers and torpedo planes and sunk within hours of each other.)
Another story to emphasize the diminishing roll of the battleship in naval warfare at that time was the Battle of Midway…the greatest sea battle in U.S. Naval history! It was the first naval battle in which none of the competing ships ever saw one of the enemies ships. Part of that battle was the only class of ship afloat that was bigger than our battleships and that was the Japanese ship the Yamato. The Yamato weighed 20,000 tons more than an Iowa class ship and it fired an 18 inch shell 6 miles farther than an Iowa class. In the Battle of Midway the Yamato never fired a shot. After the U.S. Navy air left four of its carriers burning and sinking….the Yamato beat a hasty retreat.
The four Iowa class battleships that we built were the Iowa..Hull 61, New Jersey…Hull 62, Missouri…hull 63 and the Wisconsin…Hull 64. There were to be six Iowa class ships. The other two were the Illinois and the Kentucky. However the Kentucky was launched…but not completed and the Illinois was cancelled and scrapped in the slip after the end of the war.
Ironically, later the bow of the Wisconsin was damaged in an accident with one of our destroyers and the bow of the Kentucky was cut off and welded onto the Wisconsin.
I
n those days all battleships were named after states and the first keel laid had the lowest hull number and its name became the name of that class of ship. The Missouri is preserved as a memorial at Pearl Harbor; the New Jersey is a memorial in Camden, New Jersey; the Wisconsin a memorial in Norfolk, Virginia and, of course, the grand old gal of the class…the Iowa will be in San Pedro at Berth 87, near the USS Lane Victory.
I encouraged my son and grandsons to see it for they will never see her under movement again. One of the smaller modern warships in today's navy has more power than the Iowa class battlewagons had. Heck they might have more than an entire WW II fleet.
Nevertheless I'll miss not seeing that beautiful silhouette in the morning.
Comments Off on CORRECTION – At Last ….. the truth comes out on the DWP EIR Report!
(In an earlier article …..WUSB incorrectly identified Mr. Goldberg as a Plannning Commissioner. He is not a city employee….but he was appointed to the Planning Commission by Councilman Gordon Shanks. But in our opinion he is an extraordinary public citizen.)
On May 2, 2012, at the Planning Commission meeting a report was given by Robert Goldberg .…THAT FULLY EXPLAINED… how the "70%/30%" open space vs developed space has been confused and misguided for many years.  How much by design and how much by ignorance cannot be judged at this time but it was refreshing to hear someone appointed by the city stand up and tell it like it was.
Robert Goldberg's Slide #1 was entitled  CONCERNS:  A- The EIR GREATLY underestimates the potential loss of open space. B- "My (Goldberg's) estimate is the open space loss is approximately 1.5 acres not the 0.2 shown in the EIR . C- EIR does not accurately inform the publlic regarding a critical issue – loss of open space!" (WSUB Emphasis)
Part of same slide HOW DID THIS HAPPEN?   A- EIR incorrectly concludes that the legal description of the Specific Plan area does not support the use of 70/30.  B- EIR staff were provided with an incomplete Specific Plan map.   C-EIR incorrectly  uses Central Way as the 'line in the sand" ….rathr than the 70/30 split it should have been
Next slide: Legal Description: Nothing to do with 70/30 land split.  It just describes the boundary of all property in the Specific Plan. It goes on to say that the "Legal Description" has no language regarding the 70/30 split (70% open space) or "where to draw the line."   Further it does not describe the sub-area subject to Land Use Development Standards.  This sub-area is defined by the Land Use Development Map which is included as "Exhibit A"
The next slide shows the Land Use Development Map which clearly shows that all development is to on the 'northerly'  part of the land.  That would be on the side of Central Street closest to Pacific Coast Highway…and that no development should be done on any portion of what would be the extension of Central.  The legal boundary map….on the same slide shows that part of the legal boundary is actually in the riverbed!
Next Goldberg asks the question …"SO WHICH MAP DO  WE USE FOR 70/30?"     Section A: Introduction  3-location describes the entire boundary of the Specific Plan   Section B   1-Loation " the general location of all principle land uses is shown in Exhibit A"   3- Visitor Serving "northerly 30%" and 4-Open Space….the southerly 70%
Goldberg goes on to say "So what does all this mean?   It means that the llegal description includes 1.3 acres of river, levee rocks, and riverfront land that was intentionally not included in the LAND USE DEVELOPMENT PLAN!   Since the river/riverfront area was excluded by the the Land Use Development map this area is not covered by the 70/30 provisions of the Plan and was never intended to contribute to the 70% open space requirement.
A- Open Space provided by Specific Plan  totals 7.9 acres:  River/Riverfront area is 1.3 acres.  Development area is 6.6 acres (70% x 9.46 ac) B-Open Space provided by the Proposaltotals 6.4 acres:   River/riverfront area 1.2 acres; Development area: 5.2 acres.
That difference is 1.5 acres….not 0.2 acres as stated in the EIR
There are additional maps in Mr. Goldbergs presentation which you can find on line, HOWEVER, Mr Goldberg finishes with the following:
WHAT HAPPENED?
A- Its unclear.
B- the 1996 revisions (Resolution 4444) to the Specific Plan did not change the map.
C- A "user-friendly" version of the Specific Plan was created the next day by the City Staff
WHAT DOES THIS MEAN?
A-Use of the southern border of Central Way as the "line in the sand" by the EIR is clearly not the intent of the Specific Plan (…even if it might be what the  Bay City Partners would like. WSUB emphasis)
B-The EIR use of Central Way inappropriately underestimates potential loss of open space
Much of this report is technological jargon which gets confusing when one doesn't have the maps in front of them.  Robert Goldberg's report was excellent and we apologize for not being able to copy it in its entirety here. We encourage you to contact him by email for more information.
For more info and copies of the slides go to <rgoldberg@live.com>
Comments Off on Remembering Bob Gruneisen
To friends of Bob
Please meet at Long Beach Big Rec golf course at 5 o'clock on May 8 to spread a few ashes on the 16th hole in memory of Bob's hole in one.
This will be very informal.  No banquets are planned.
LIBBY AND KEN APPLEGATE
(THIS IS ANOTHER IN A SERIES OF NOTICES BY A LARGE GROUP OF LOCAL CITIZENS TO KEEP ALL OF US ADVISED ON WHAT THE COUNCIL IS TRYING TO FORCE THROUGH TO BENEFIT THE DEVELOPERS OF THE DWP PROPERTY.  WE'VE BEEN ADVISED BY A 3RD PARTY THAT A DEVASTING DOCUMENT WILL BE INTRODUCED TONIGHT TO THWART THOSE EFFORTS….IF THE COUNCIL ALLOWS IT TO BE INTRODUCED AS EVIDENCE.)
Dear Friends,  We really need to be heard at the Plannning Commission on Wednesday, May 2nd at 7PM  This is public trust land and we need to stand up
Please come and be heard.  Seal Beach is not an accident!  It took hard work to make this city what it is. WE need you to show up and let the council know that no matter how much they keep putting off  the DWP problem….WE'RE NOT GOING AWAYf …….PLEASE !!!
1) First, we're  not sure why a feasibility study is relevant given that the developers bought the land with the zoning for a hotel already in place.  The feasibility of the hotel is their issue, not the public's.  Why does it matter if they decide later it's not feasible.
2) Even if "feasibility" is somehow relevant, the studies are completely flawed in both set up and in the actual calculation.
Set up
– A feasibility study would not include the historical cost of the land purchased. A feasibility study would be used to determine if hotel can be built, and then to back into what price one could afford to pay for the land.  Doing it the other way is not "feasibility" ……it is simply calculating profitability, retroactively.  A developer's profitability is certainly not the public's concern, unless they were planning to share their profits with the public if they got  a good deal.
–  Even if  their historical land cost is somehow relevant, including a return for their "sunk cost" of the past 10 years of holding the land in the cost-basis is simply unreasonable in a "feasibility" study.  And it's even more unreasonable when land values generally declined over that period.  Again, how is their return or their "opportunity cost" of any concern to the public?
Calculations
First, the financial models done by Kosmont are simply wrong.  They made a couple math errors that invalidate the entire analysis.
Math errors:
– Interest expense is held constant throughout the entire 10 projection period on all the scenarios.  Obviously that's incorrect, as interest expense will vary with debt balances.  Balances will increase as they lose money and will decrease as they pay down debt.  In their first scenario, for example, the effect is so dramatic that in year 10 projected interest expense is $1.3 million more that it would be.
– They make the same mistake in calculating Terminal Enterprise Value. They assume the debt balance is the same at the end  of the 10 years,when in fact it would have declined from $$21.5mm to only $5.0mm, in scenario one for example. Similar for all the other scenarios.
– The IRR in scenario 1, using THEIR numbers, but correcting the math mistake, would make the projected IRR go from 16% to 26%.
– Interest expense in couple of the scenarios appear to simply be wrong.  And it reduces the returns dramatically.
Unrealistic Assumptions:
– Kosmont assumes that the interest rate would stay the same for all 10 years.  Naturally, when the hotel gets to a steady state, as projected by year 5, they would be able to refinance at better rates.
– Requiring a 20% IRR over 10 years is not realistic.   Once the hotel gets to a steady state, the required return is much lower, which is why "cap rates" for hotels in the stock market are only 7% right now.  A 5 year window of start-up risk is more appropriate for a 20% return.  In scenario one, if the developer sells the hotel at year 5, they would achieve a 30% IRR.
– The 8% cap rate assumed in the analysis is conservative, given where the market is right now.
Results
Correcting the math errors alone leads to several scenarios that are over 20% IRR. If we slightly adjust a few assumptions to more realistic ones, like cap rate, refinancing rate, using actual cost on the land (which shouldn't even be included at all in our opinion), then almost every scenario becomes feasible with 16%-30% IRR ranges.
JOIN YOUR NEIGHBORS TONIGHT!
Comments Off on They Are Out to Destroy "Mayberry by the Sea!"
More On Seal Beach Neighbors vs Bay City Partners !
(As mentioned in earlier articles, What's Up in Seal Beach receives periodic reports from a large group of Seal Beach residents who are in opposition to the Bay City Partners group who are trying put a high density residential development on the old DWP land on the waterfront beginning at First and Ocean. What follows was received at 9 p.m. Tuesday evening.)
SEAL BEACH NEIGHBORS: Thank you again for coming to the DWP Advisory Committee meeting.  We think the Council is beginning to 'hear' you. Tomorrow night is the "rescheduled" EQCB Meeting at 6PM in the Council Chambers. Let's see if they try to reschedule it again!
Remember that the DWP land has been on the "high priority list" of the Coastal Commission for many years. The current owners have owned this property for 10 years and all they've done is construct a "block-out-the-view spite fence" and allowed motor cross to destroy the natural vegetation and perhaps natural habitats. Good Guys…they are not!
They currently have threatened the City of Seal Beach with lawsuits if the Council does not change the zoning to fit their needs. We need your help us stop the over development of this land.
Schedule of coming meetings:
* EQCB (Environmental Quality Control Board)  Wednesday April 26th at 6PM in the City Council Chambers
* Planning Commission Final EIR & Project Recommendation Wednesday May 2nd      7:30 PM in the City Council Chambers
* City Council (1st hearing) Final EIR & Final Project hearing   Monday June 11  7PM
* City Council (2nd hearing) Final EIR & Final project hearing   Monday June 25  7PM
Remember:
*The Developers not only are trying to change the existing zoning they are going to get a lot of money from the city….and we are going to pay for it!
48 row houses densely packed end to end & a severe reduction of the planned park land  will be covered in concrete( This is the last bluff on Southern California Coast)
*   These houses will be jammed on 25′ narrow lots.
There will be costly  concessions from the rest of  us to these developers.
We will have to pay the developers $900,000 to lease the driveway to 1st Street parking lot & we will get ZER0 of the Parking fees!
We are still trying to find out how something like this slipped through without the citizens being told.
We don't want:
* Increased traffic, noise, pollution
* Increased costs for sewers, roads, water, schools
* Increased FIRE and POLICE costs
* Cancellation of Open Space that has been planned for over 10 years!